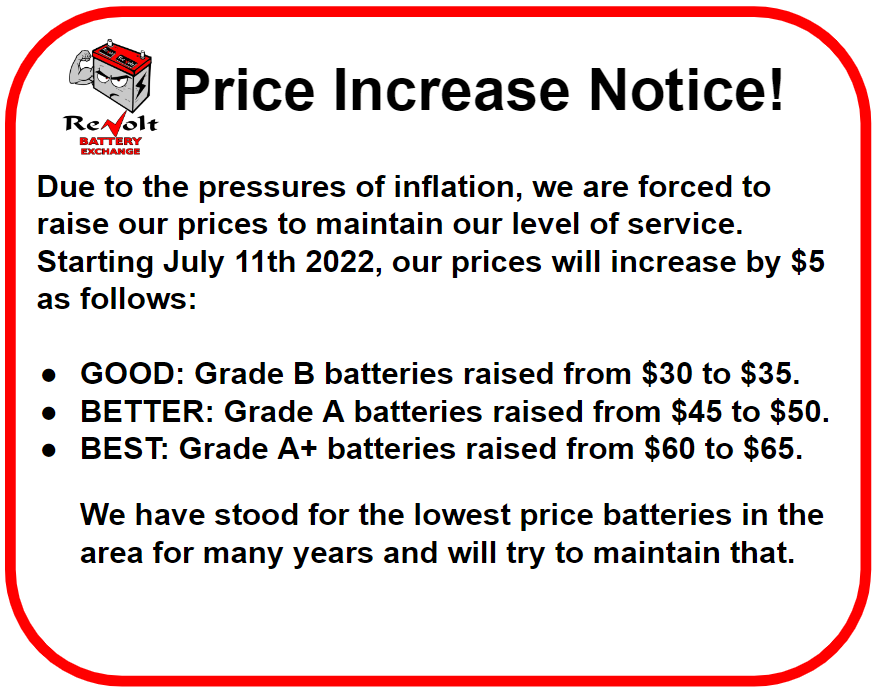 ReVolt Battery Exchange of Reno offers reconditioned used batteries for sale at discounted prices. Literally, tons of recycled batteries are in-stock and fully-charged for your automotive starting-lighting-ignition needs:
GOOD Batteries: $30 (out the door, with a core price) tax included for a 30-Day Money Back Guaranteed battery.*
BETTER Batteries: $45 (out the door, with a core price) tax included for a 90-Day Guaranteed battery.*
BEST Batteries: $60 (out the door, with a core price) tax included for a 180-Day Guaranteed battery.*
NEW Interstate Batteries: Outrageously Dependable!
WE BUY BATTERIES [Click Here]!  If you do not have a dead battery core exchange, add the current core price.
All refurbished car batteries sold by ReVolt Battery Exchange of Reno have been rebuilt and remanufactured using our ReVolt battery reconditioning and maintenance system to a complete charge.
---
LOCATION:
309 Kietzke Lane
Reno, NV 89502

TELEPHONE:
775-525-3003
---
OPEN HOURS:
Monday – Friday   Store: 10a-6p.  Telephone: 10a-5:30p.
Saturday   Store: 10a-4p. Telephone: 10a-3:30p.
Sunday   Closed
Holiday Store Closure Dates:
Closed
New Year's Day
Closed
Easter
Closed
Memorial Day
Closed
July 4, Independence Day
Closed
Labor Day
Closed
Thanksgiving
Closing at 2pm
Christmas Eve
Closed
Christmas Day
Closing at 2pm
New Year's Eve
STORE POLICIES
Cash, Debit, or Credit cards only. Personal Checks are not accepted.
Original ReVolt Battery Exchange sticker must be on any 30-day or 90-day or 180-day guaranteed battery you wish to return for exchange or refund.
At our discretion, Refunds may be in cash, check, or returned back to your debit or credit card.
Unless specifically stated on an item or the receipt, our general return policy is 7-days from the date of purchase. You must show your receipt.
COVID-19 NOTICE: Attention dear customers, like many, we are affected by the commands of our leaders, and the presence of the Corona Virus. To protect our employees and customers, we have enacted the following policies until further notice:
1. Our main door will be locked. When you arrive, you may ring the doorbell or call our number 775-525-3003 to let us know what you need.
2. WE DO NOT HAVE RESTROOMS.
3. Please maintain at least a 6-foot distance between yourself and anyone else in or outside of the store if you're waiting for your turn.
We wish to thank everyone for your continued patronage and wish everyone the most in health, American liberty, and the best outcome through this unprecedented time.